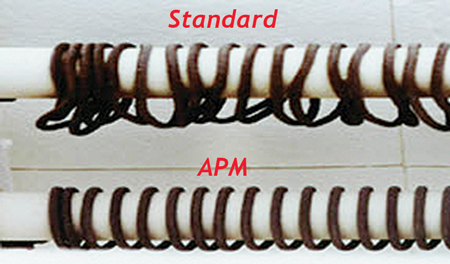 Why You May Want APM Elements
Let's start first by saying that APM ELEMENTS ARE NOT FOR EVERYONE. APM Elements are made of almost exactly the same material as our regular elements, the difference is how they are made. With APM elements they grind up the extruded material and then re-melt it and extrude it again. What this does is give it more dimensional stability (it doesn't sag or creep as easily) at high temperatures.
Elements are more likely to sag and creep when you are firing to, and holding at high temperatures. This can significantly reduce their effective life. So, if you are working with Crystal glazes or are consistently firing to Cone 10 you will be very pleased with the added life of the elements. If you are mostly low firing (Cone 04) you will not experience any benefit.

Order the Correct APM Elements for Your Kiln
Ordering APM Elements With A New Kiln
If you are ordering a new kiln with APM Elements just let your distributor know and we will make sure we install them in the factory. If you would like to check pricing first your can find the upgrade price by model number in our Ceramic Kiln Price List located under the Resources section or through Parts Finder
Ordering Replacement APM Elements
For pricing on individual replacement elements go to the Parts Finder tool located under the parts section or download the Parts Price List under Resources. Remember, most Skutt Kiln models have balanced elements so there are several types of elements in each kiln designed to place in specific positions.