Make the Smart Choice…. #1 Kiln for a Reason
Quality Products, We Help People Make Great Things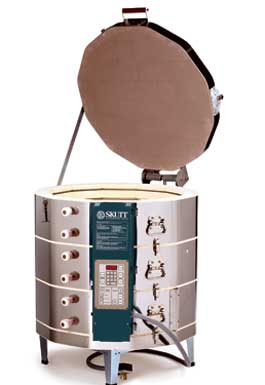 Power Cords
Peep Plugs
Instructional Material
Advanced Packaging
Warranty Service
---
Welded Stand
Our competition claims their "full plate" steel stand reflects energy back into the kiln, saving you money on firing costs and preventing kiln bottoms from cracking. If this is true, every Skutt kiln sold with an Environment has been providing these benefits for over 15 years.
Cracking in Bottoms and Lids are caused by the extreme difference in temperature between the side exposed to the heat of the kiln chamber and the side facing out. The side facing the chamber expands at a faster rate than the side facing out and causes the face of the side in the chamber to develop shallow hairline cracks. These cracks do not affect the structural integrity of the slab.
---
Computer Balanced Elements
Balanced Elements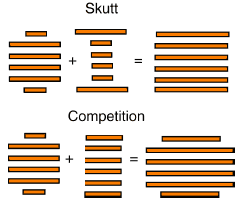 Nearly all Skutt kilns have Computer Balanced Elements. This means we design the elements so that more heat is put in areas of the kiln that naturally fire cooler.
In kilns with elements in the lid and side, we balance the power to create the ideal combination of heat radiating on the glass and under the shelf. This helps prevent temperature differences with the glass that can cause thermal shock. It also allows you to use deep slump and drop molds with excellent results.
Zone Control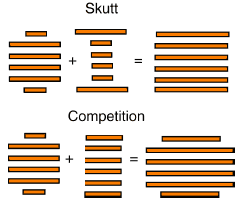 Our side-fired (GlassMaster Production Kilns) all come with Zone Control as standard. Side-fired kilns are used to anneal tall pieces or to slump or fuse on multiple layers within the kiln. Zone Control allows each section of the kiln to fire independently of the other. Therefore, if the kiln is firing unevenly, sections can turn on or off to balance the heat.
These kilns also have balanced elements. By balancing the heat in the chamber to start, Zone Control does not have to work as hard. You have less cycling and therefore longer lasting relays.
The bottom line is money saved on electricity, tighter controls, and faster turn-around times.
2 Element Grooves Per Brick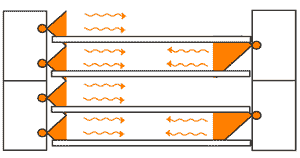 It is always recommended to have an element between each shelf when firing in multiple layers. This is because the radiant heat from the elements needs a clear path to heat up the ware in the chambers that are formed between each shelf.
It is much easier to load a kiln with 2 element grooves per brick because you have so many more options for shelf placement.
More Than Just Ohms
There are many aspects of element design that affect the performance and life of the element. The watt density, pitch, and gauge must be perfectly balanced to achieve the best results.
One limiting factor to element design can be having enough room to place the proper amount and gauge of wire. That is one of the reasons why Skutt makes sure each brick has 2 element grooves. More grooves give you more design options and fewer concessions need to be made.
Most manufacturers try to use the heaviest gauge of element wire possible to increase element life. The thicker the wire, the cooler it will run therefore you need to use more of it to get enough power in the kiln to heat it to temperature. With only 1 element groove per brick you cannot always do this and you are forced to use a lighter gauge wire. Just because a company says they have "Heavy Duty Elements" doesn't mean that they are actually using heavy gauge elements.
---
Sectional Design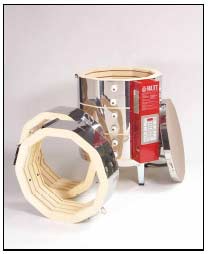 Do we have it? Heck we invented it! Skutt was the pioneer of sectional kiln building over 50 years ago. That means we have had 50 years to perfect sectional design. Many have copied this design due to it's popularity but none can match our quality. The sectional design allows the owner to quickly disassemble the kiln for moving or repair. This design brought Ceramics into the home. It's light weight coupled with the ability to break down into smaller sections made it possible to move a kiln through a narrow doorway or down a flight of stairs.
Repair is a Breeze
With a sectional kiln you can get right to the part you need to replace. The hinged control box was designed to give you quick access to replacing the thermocouple with out needing to balance the box on your leg. It also comes completely off to allow you to separate the sections. The wires that attach to the box are numbered and connected with slide on connectors. These provide a secure fit but also make removing and replacing them a snap. Once the sections are apart you can access any brick or element without having to crawl into your kiln.
---
Premium Fire Brick
Skutt uses the best brick available on the market. We pay a little extra for this brick because of it's uniform cell structure and lack of large voids or craters in the face of the brick. This insures that the brick will insulate uniformly throughout the kiln and allows us to mill it to extremely tight specifications.
Fit and Finish
If you ever get a chance to see a Skutt Kiln next to a competitors take a close look at the brick. Inspect the seams between the brick and notice how tightly they fit together. The tighter they fit together the less shifting the brick will do when people are leaning in to load the kiln. When brick shifts it rubs against each other and begins to break down over time. Look at the spaces between the sections.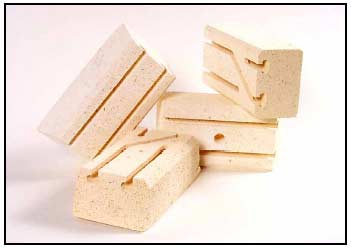 At Skutt we have precision tooling that allows us to sand each section, lid and slab to be perfectly flat and level. This insures that when the kiln is fully assembled there will not be gaps for heat to escape during the firing.
Look at the face of the brick. Check the uniformity of the cell structure and the care that has been taken to patch natural voids in the brick. This attention to detail and pride in workmanship is often a good indication of the overall quality of the kiln.
Brick Coatings
At Skutt we coat every lid on both sides, with a refractory cement to prevent brick dust from falling into the kiln. The lid is coated on both sides so the lid can be flipped over if for some reason one side becomes damaged.
We have chosen not to use any coatings on the wall or slab of the kiln. Our testing has given us no conclusive evidence that they provide any benefit. In fact they add a considerable amount of weight to the kiln. This additional weight raises shipping costs, makes the kilns more difficult to move and setup, and adds additional mass to the kiln that must be heated.
---
Corrosion Resistant Materials
When ceramic and glass materials are heated they can create a corrosive atmosphere which can attack the metal in the kiln. All of the metal materials used to build a Skutt Kiln are evaluated in terms of maximum corrosion resistance.
Bands – Stainless Steel
Screws – Stainless Steel
Handles – Nickel Plated
Control Box – Powder Coated
Kiln Stand – Zinc Plated Steel
Lid Brace – Zinc Plated Steel
Element Feeder Wires – High Temperature Nickel
---
New Skutt Controller with Current Sensing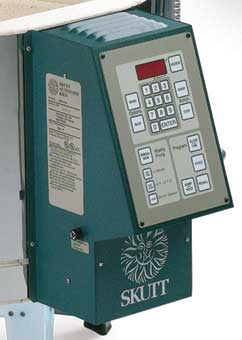 From the outside there doesn't seem to be anything different about the New Kiln Controller by Skutt. The keys are the same and the steps for entering a program have not changed; but on the inside….
Current Sensing – No more hiring expensive technicians to perform basic electrical tests. Every GlassMaster Skutt Kiln is now equipped with a current sensor that allows remote technicians to troubleshoot your kiln right over the phone, The current sensor reads your voltage and amperage with just a few easy keystrokes accessed from the completely redesigned Menu function key. It can also check the board temperature, LED readout and a host of other useful troubleshooting data.
New Safety Features – Ever worry about a student or employee entering the wrong temperature and causing a meltdown in your kiln? You can now enter a maximum programmable temperature which makes it impossible. You can also program the kiln so it requires 2 key presses to start the program. This prevents accidental starts by curious passerbies.
New Easier to Read Display – There is a new 14 Segment LED display that allows for more descriptive prompts. No more deciphering cryptic messages.
These new controllers are now standard on every GlassMaster Kiln. Upgrades for older models are easy to install and available now.
---
Power Cords and Plugs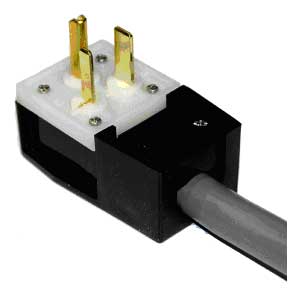 Skutt uses high quality Hubbell plugs on all kilns over 40 amps. We refuse to use molded plugs on any kiln that draws over 40 amps. The reason for this is that they run very hot at higher amperages and the failure rate is much higher. Some of the competition uses a molded plug on a 48 amp kiln and, yes, they are less expensive.
---
Peep Plugs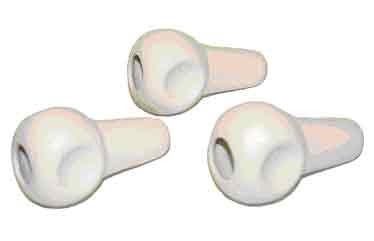 Our peep plugs are made of high quality porcelain. The peep holes in the kiln are coated with refractory cement for durability and tapered so you can twist lock the plugs in place. This secure fit prevents them from falling out and breaking.
---
Instruction Material
Step by Step for Beginners & Quick Start For Advanced Users
More Photos and Images
Website Downloads
All kilns come with a manual that describes step by step how to unpack, setup, program and maintain the kiln. The operating manual has quick start instructions for the advanced user as well as step by step, easy to understand instructions for the beginner. If you ever lose your manual nearly all of Skutt's literature is available to download off of the website, 24 hours a day at no charge.
---
Advanced Packaging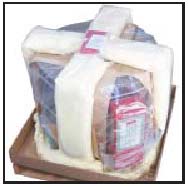 We have been using Expanding Foam packaging with heavy gauge corrugated for over 30 years. This method of packaging forms perfectly to the kiln. It protects the kiln from impact and prevents the kiln from shifting within the box. This means fewer freight claims which we all know can be a severe time drain. If there is a freight claim you can be assured that it will not be declined due to improper packaging. Our HotStart Kilns are packed in extra heavy gauge boxes so we can ship them via UPS with no worries.
---
Warranty Service
The funny thing about warranties is that they are only as good as the support structure behind them. A company could offer a 20 year warranty but when you take into account the exclusions, the waiting for call backs, and your over all frustration level, what is it really worth.
Skutt's 2 year warranty is straight forward. If you have a failed component on your kiln within 2 years of purchasing it, we will fix it. We will pay parts AND labor. Many of our full service distributors will even repair the kiln on site. Due to the fact that it is possible to exceed the estimated life of a thermocouple before the end of the warranty period, thermocouples are the only items we do not cover under our warranty.