How to Buy a Kiln for Home Use
Having access to your very own kiln changes the game for any potter. The freedom to fire your kiln when you want and how you want will bring your art to a whole new level.
No more risk of damage from transporting fragile bisque or incorrectly programmed kilns
Freedom to explore new firing effects like slow cooling or to test new glazes
Fire on your schedule to meet deadlines
There are number of things you need to consider before purchasing your first kiln. For this article we will only discuss the purchase of a new kiln. Used kilns can be a great option but they often come with headaches you cannot anticipate. If you would like a more comprehensive analysis of all the things needed to make an informed decision we suggest reading the publication Kiln Management. You can also use the automated web purchasing tool Build My Kiln.
Where should I locate my kiln?
Where to locate your kiln can be a challenge and will often affect the kiln you can purchase. Ideally your location would incorporate the following considerations: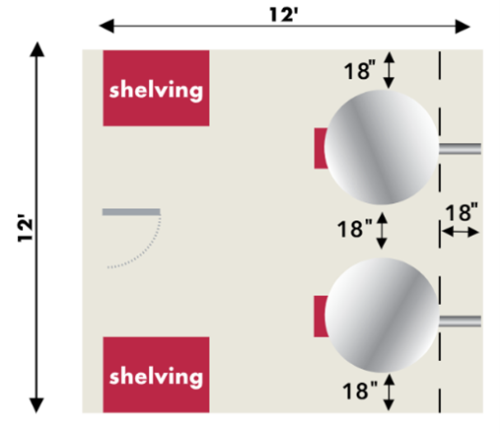 Must be installed on a non-combustible surface such as concrete or ceramic tile.
Must be placed in an area large enough to allow 18" of clearance all around the kiln.
It should be located in an area that has access to ventilation such as a room with a window, overhead fan, or allows for the easy installation of a downdraft vent.
To save money, it is best to install in an area as close to the home's electrical breaker box as possible.
Place in area that is close and easily accessible from your studio.
Place in area that can be protected from small children and pets.
Place in area that will not over warm other living areas during summer months.
What kind of power do kilns require?
This is a big mystery for a lot of people. Here are the basics:
Amperage
Larger kilns require a 60 Amp breaker (average electric stove runs on a 30 Amp breaker). Most newer homes have 200 Amp service and installing a new 60 Amp dedicated service is not a big deal. However, some older homes only have 100 Amp service available and it may be necessary to choose a smaller model that does not draw as much amperage.
Voltage
In the United States almost all residential have 2 voltages available, Single Phase 240 V or 120V. If you are looking at used kilns online, 3 Phase and 208V models were not work in your home. If you try and convert them the UL safety listing is no longer valid which could affect your homeowner's insurance. Only a few very small models are available that run on 120V (like your hair dryer).
Installation
All electrical supplies should be installed by a certified electrician. Your local kiln distributor should be able to recommend one familiar with kiln installations in your area. The farther from your breaker box, the more expensive the installation will be. If the distance from the breaker box is more than 50 ft, you will be required to use a heavier gauge wire due to voltage loss. Some larger more powerful kilns do not have the option to plug in and will require direct wiring into a junction box.
What size kiln should I buy?
Ideally the size of your kiln will be determined by the size of the pieces you want to fire and the amount ware you need to produce. When looking at the height of the kiln chamber remember that it is recommended to post a shelf up off the floor of the kiln so you have to subtract 1" plus the thickness of the shelf you are using. In terms of width, it is recommended that you allow 1" of clearance from the elements so subtract 2" from the total width.
What kiln accessories will I need?
At the very minimum you will need a furniture shelf/post kit to load your ware efficiently. It is also highly recommended to install a downdraft ventilation system (like the EnviroVent 2 from Skutt). This vents fumes directly from the kiln chamber to the outdoors. This not only prevents you from stinking up your house, it also improves firing results and prolongs the life of your kiln. Other popular accessories include: rolling kiln stands, EnviroLink (automatically turns on vent when kiln is started) and extra shelves.
What kiln upgrades should I consider?
If you are going to spend money on any upgrade, it should be the touchscreen controller (KMT Controller models from Skutt). This is a no brainer. These new controllers utilize the newest technology to make your firing experience more intuitive. They have a kiosk style programming mode that walks you step by step though the firing process with confidence. With an interface much like a smart phone the controller can display messages in full sentences instead of cryptic 4 digit characters. It also comes with a free App that allows you to monitor your kiln status from your smart phone.
Where should I purchase my kiln?
We always suggest you support your local clay suppliers. They can provide services that online distributors cannot. Often times you can see the actual kiln you are purchasing on their showroom floor. Here are some of the services you may be smart to utilize:
Receiving from the factory and inspecting for freight damage
Delivery to your home and professional set up (they will also haul away all the packing material)
Testing
Programming and Maintenance Training
Of course if you do not have a local distributor there are many online distributors that do an excellent job at walking you through the buying process. You can count on all distributors to give you an unbiased and informed recommendation as to which model and brand which suits you best. Here is link to help guide you in selecting a quality provider: Find a distributor.
Share this post
https://skutt.com/images/how-to-buy-a-kiln-for-home-use.jpg
400
500
Mike Sievers
https://skutt.com/images/Skutt-Kilns-Logo-NC-1.png
Mike Sievers
2023-01-17 14:27:35
2023-02-22 13:23:59
How to Buy a Kiln for Home Use