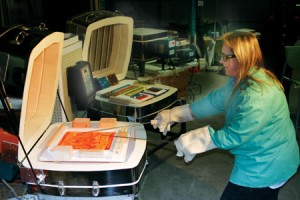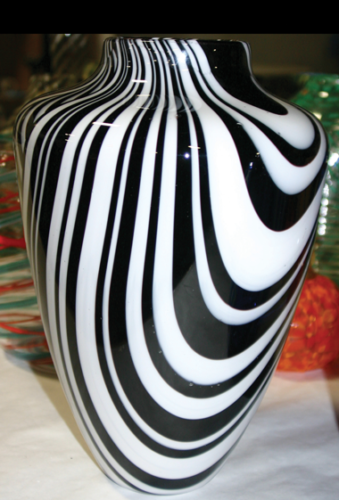 Patty Gray
Kilns Patty Uses – GM22CS, GM1414 and FireBox14
My personal objective is to never stop learning, continue to experiment with glass and explore its possibilities without limiting myself to traditional methods.
I was an art student in college working primarily in clay when I was introduced to glass blowing in 1973. My husband and I built our first glass blowing studio in 1975. I began working with fusing glass in the early 80's; there was not a lot of information available at that time so I did lots of experimenting. My husband and I have been producing architectural fused/cast glasswork for installations in major hotels, public buildings and private residences for over ten years. During this time I have had many opportunities to experiment and advance my creative ambitions with glass on personal projects.
I spent several years working with local elementary schools (artist in residence program) teaching and exploring projects for school/community. I found this experience very rewarding; the children's enthusiasm and willingness to learn new things without a lot of preconceived ideas was refreshing. My favorite project while working with the children was a glass mural measuring 42"x 90" that is permanently installed in the Brier Public Library.
Patty is best known for her combing techniques. In this process, strips of contrasting colored glass are laid side by side and heated until the glass is soft enough to fuse the strips and then track a metal tool across the face of the piece causing the colors to combine in a deformed pattern. The glass pot to the left is an example of this combined with another technique called a Roll Up. After the combed tile has cooled Patty works with a glass blower to roll it up into a cylinder and shape it into a pot.

To see more of Patty's work visit her website at http://www.pattygray.com/