GMT-22CS
Home
>
Glass Blowing Kilns
>
GMT-22CS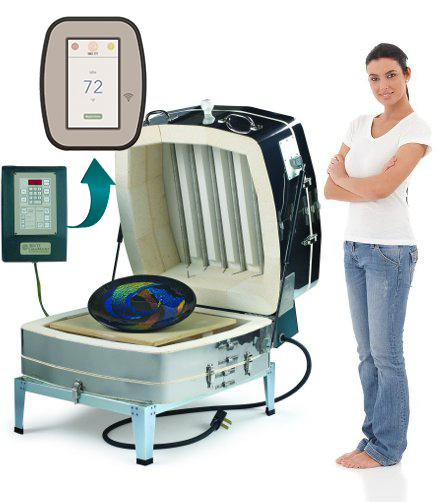 The Professionals Choice
The GM22CS, more commonly known as "The Clamshell", is without a doubt the Premier fusing kiln on the market. If you are a professional Fused Glass Artist, this kiln is made for you!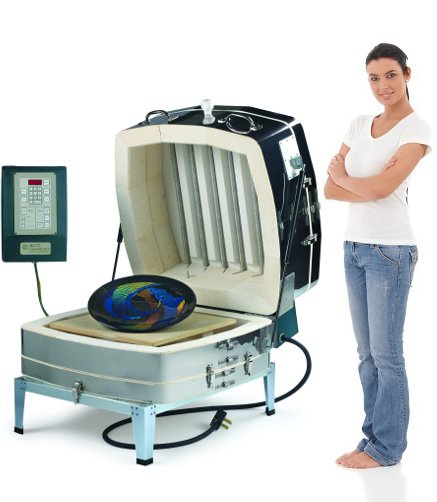 ---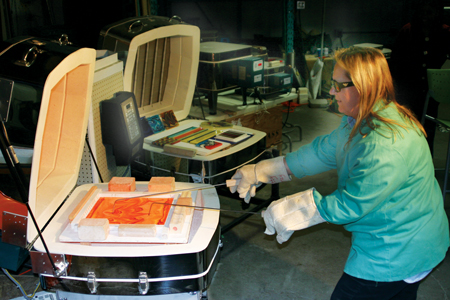 The Shape
The Clamshell Shape of the GM22CS has several advantages. When you open the kiln lid, either just to peak or like Artist Patty Gray, to manipulate the glass while it is heated, you want protection from the heat and as little of the heat to escape as possible.
Unlike conventional top loading lid designs, the clamshell does not radiate the heat from the lid back in your face. Instead, it stores it in its bell type kiln lid. This drastically decreases the risk of thermal shock and reduces the time it takes for the chamber to recover back to set temperatures.
The bottom of the kiln is designed so you can post your shelf up level with the top edge. This allows you to assemble in the kiln without having to reach into the chamber just as you would on a table. It also allows heat to circulate under the shelf preventing a cool shelf.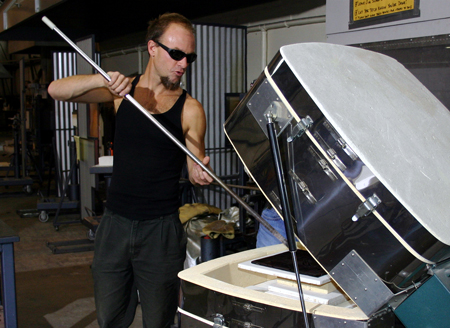 Another advantage of the bottom being level with the top edge is full access for raking or making roll-ups like Jonathan Schmuck.
Its 24″ square chamber (23.5″ x 24.5″) is perfectly suited for tile or large platters and the 14″ chamber height allows for deep slump molds and fairly tall drop rings.
---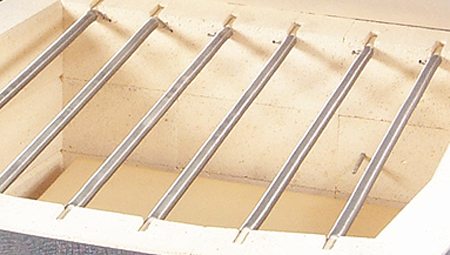 Elements Over Rods
Traditionally glass kiln elements are routed into the kiln lid. While functional and cost effective, this design sometimes can cause problems. Since the elements expand and contract as they heat and cool, they can cause bits of brick or element pins to fall into your piece. The elements in the GM22CS are suspended over the chamber on ceramic rods which completely eliminates the potential of these things happening.
---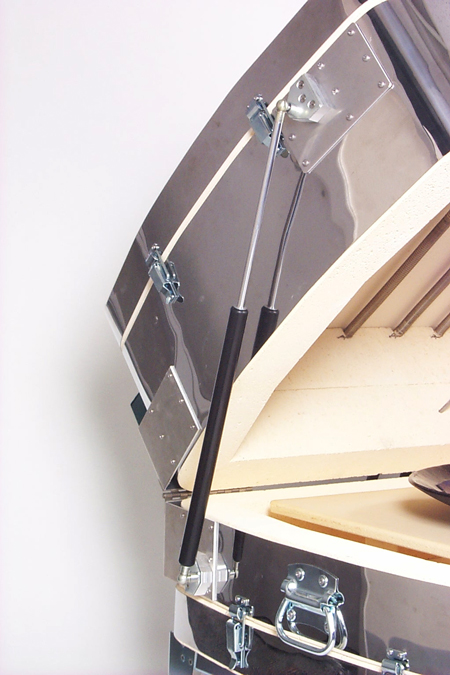 Gas Struts
Due to its Clamshell design opening the lid on the GM22CS would be difficult if we did not provide assistance. That is why we added these gas struts. They were similar to the way they work on the hatchback of a car except these are specifically designed to hold up to the high temperatures of the kiln. We positioned them so they will be out of your your way when loading or manipulating glass in the kiln.
---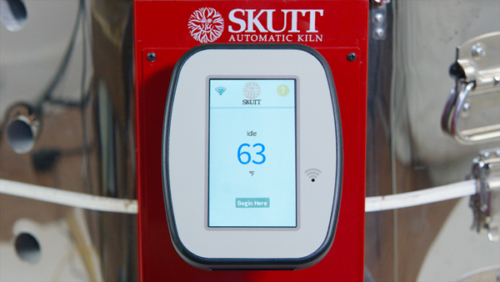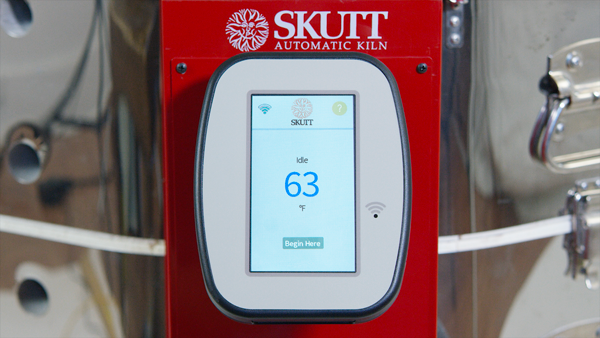 NEW

GlassMaster Touchscreen with Built-in WiFi

Like Your Smartphone the new GMT controller navigates with just a touch of a finger and allows us to guide you through programming with full sentences, helpful icons, and dynamic navigation.

Built-in WiFi makes it possible to download any software feature upgrades for free so it is like having a new Kiln Controller for the life of the kiln.

A Free App works in conjunction with the Wifi and allows you to monitor your kilns temperature and status from your smartphone.Think how comforting it will be not to get out of bed to be sure your kiln shutoff as expected.

The Hinged Controller allows you to move the controller up and down to an angle that is comfortable for you to program. No more getting on your hands and knees. After programming you can push it back down so it is out of your way and easy to view from across the room.

It has the Same Functions you have come to know and love from the standard GlassMaster Controller Plus More!
Glass Fire Mode

– Allows you to easily program the kiln based on the size of the project and what you want to do with the glass. We have added COE as one of the questions it asks you so we can write programs that are specific to

96 COE

,

90 COE

, and

Bottle Glass

. We have also added

Casting

and

Textural Fuse

to the list of project types.

Ramp/Hold Programming Mode

– Allows you to easily input your own firing programs. Now you can

Name Your Programs

and store them in

My Programs

for easy access. You can even

Copy Programs

you like, but want to change slightly to speed up the programming process.
There are exciting New Functions that are on this controller as well.
Guided Start

– This programming Mode is meant for beginners. It guides you through every step of the programming process with

Helpful Messages

to make things crystal clear and give you confidence you have done everything correctly before you press Start.

Program Library

– We have added a program library with helpful programs for unique processes like

Slumping Bottles,

Melting Glass in a Crucible Kiln

, and

Annealing Borosilicate Glass.

Help Screens

– Nearly every page has a Help Button that will give you detailed information about the screen you are currently viewing. I

t is like having the manual right on the controller!

More Detailed Diagnostics

– We put in place more detailed diagnostic tools which make it faster to figure out what may be going on with your kiln. And, because your kiln is connected to the internet our technicians can view the data right from their desk.

Graphing

– When you press Start the controller will display a Graph of the firing so you can follow it along as the kiln goes through the program.

Logging

– The controller actually stores the information from your last 10 firings which can be downloaded to an Excel Spreadsheet.
Upgrading to KilnLink

– Adding KilnLink to your kiln just got easier and more affordable. The built-in WiFi eliminates the need for expensive hardware so now all you need to do is pay a minimal monthly data storage and development fee.
So Much More – To find out more detail about more detail about the new GlassMaster Touchscreen Controller visit the Featured Product Page
---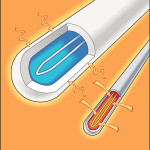 The Thermocouple
Thin-walled inconel cover equals faster reaction time and higher accuracy.
Easy and quick to replace.
---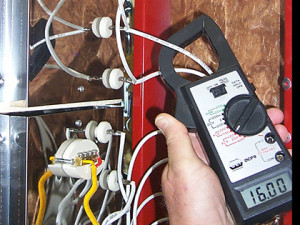 The Warranty
Unlike most warranties, ours covers Parts AND Labor.
Never Pro-Rated.
Serviced by the most extensive, knowledgeable and talented distributor network in the industry.
Backed by a company whose mission statement is "We help you make great things". When your kiln is down, you can't make great things.
---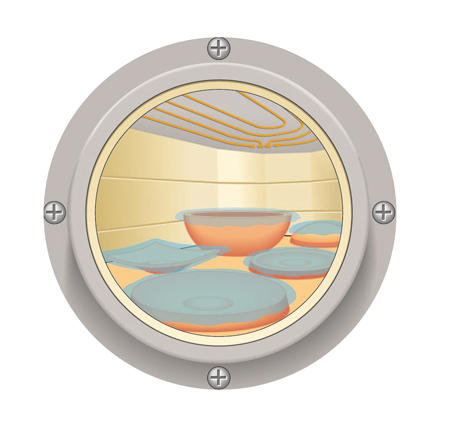 Optional Raised Stand and Viewing Window
Get the most out of your kiln by adding the optional view window and Adjustable Rolling Stand. The viewing window allows you to look into the kiln while it is actually firing so you can see if that piece is perfectly fused or slumped without losing heat by having to open the lid. The Adjustable Rolling Stand allows you to raise the kiln to a level that is comfortable for you. Watch this video to see what it looks like.
---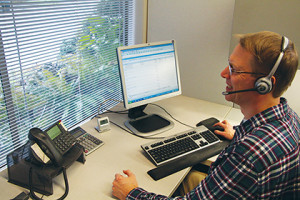 And So Much More!
When you are buying a kiln, you are not just buying the equipment, you are also buying the service that comes before and after the sale. From the moment we cut that first brick to the day you open the box, to the day you are ready to retire it, our reputation is on the line and we take that very seriously. Get the whole story here.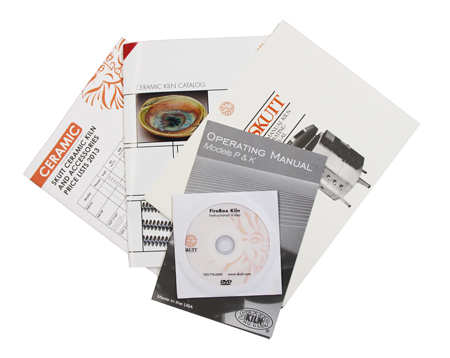 Resource Links
Below you will find links to resources that are specific to this model:
GlassMaster Kiln Manual

---
*Weights listed are only approximations. Actual weight will vary due to humidity levels and varying brick density.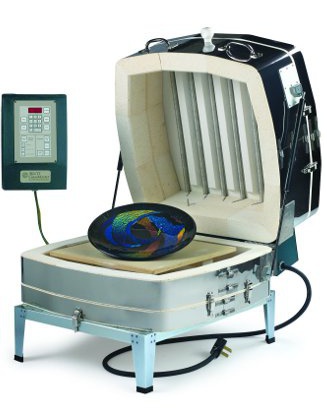 Chamber Capacity
| Depth | Opening Width | Opening Length | Cu. ft. |
| --- | --- | --- | --- |
| 13.5 in | 24 in | 25 in | 4.35 |
Approximately 24 in. x 25 in. opening and 13.5 in. high: 4.35 cubic feet.
Viewing Window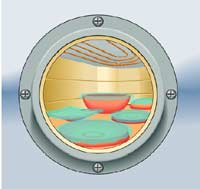 Learn More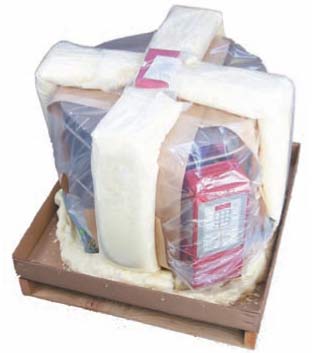 Contents List
Skutt Kilns should arrive fully assembled.
Packed with the kiln you will find the following items:
Kiln Stand
Operating Manual
Wall Mount Controller
Stand Feet
Warranty Card
Peep Plugs – attached to the kiln stand, enough to fill each peephole on your particular model.
Buying Skutt Products
All Skutt products, with the exception of parts, need to be purchased through an Authorized Skutt Distributor. To locate a Distributor just click on the Distributor Finder icon below.
If you are looking to purchase a kiln, you may want to use the Build A Kiln tool first so you are absolutely sure you are ordering the correct kiln with all of the accessories and upgrades you want.
If you are an Architect or contractor who is looking to Specify a particular model for future purchase, use the Build A Spec tool to generate a Specification Sheet.