Lisa Allen, Kansas State University
Here is another taken with a GoPro at the NCECA Convention. Each year Skutt sponsors a throwing competition in our booth for the students and the winner takes home a Skutt Potters wheel. Not just any wheel, the Steven Hill Signature Series is our top of the line 1/2 HP wheel complete with the SSX controller, Adjustable Leg Extensions and Shaft Extension! Check back each week for a new student video or friend us on FaceBook to be notified when a new video posts. You can see all the currently published NCECA competition videos by clicking here!
---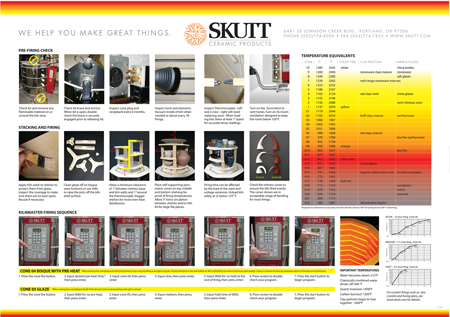 We Have Posters!
If you see us at the shows you know we have great posters for your kiln room and classroom. Some are informative, some are fun, and some are just downright Cool! Come by our booth at one of our trade shows and pick one up for free.
---
It's Not Just a Coffee Cup
Pete Pinnell, Potter and Head of the Ceramics Department at the University of Nebraska, was kind enough to let us share this video with you. In hit he gives us a new paradigm for looking at cups.It is amazing how many perspectives he brings into play that most of us would never consider yet are amazingly interesting and relative. What a great thing to share with your class.
---
See The Story Behind Skutt Wheels
In 2007 Skutt purchased Thomas Stuart Potter's Wheels. It seemed like a perfect fit for our company. Former owner Tom Forte had an excellent reputation for customer service and quality and some of the most notable potters in the industry were already sold on them.Even better was their reputation of being the toughest wheel on the market meantthat schools were going to eat them up. Check out this video to get the whole story.
---
Skutt Wheels in Action
Brian Kohl, Ceramic Instructor at Chaffey College, loves his Skutt Wheels. Check out this jazzy video!
---