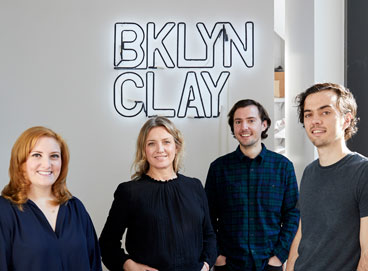 From Left to right:
Laura Vogel, Jennifer Waverek, Gustav Hamilton, Anders Hamilton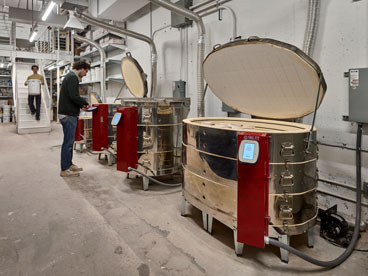 KMT 1627
BKLYN CLAY
The Bulding
BKLYN CLAY, located in the heart of Brooklyn, NY is quite possibly the coolest clay building I ever stepped foot in. The interior is bathed in natural light by its solid window facade and the clean, uncluttered white walled interior bounces that light to every corner. When it gets dark there are artistic lights that drop down from the ceiling over every work area. You would think it would have a sterile feel with all that white paint and lighting but it really has the opposite effect. The color in the clay and peoples clothing just pop and make the place feel vibrant and alive.
The Program
The studio has capacity for up to 210 members, students in nearly 30 class sessions per week, as well as one-time classes, lessons, and private events. BKLYN CLAY also hosts workshops and is beginning to manufacture dinnerware. Members have access to wheels, a vertical slab roller, extruder, ceramic 3D printer, full-size color decal printer, slip-casting, spray booth, photo booth, and of course, the Skutt Kilns. Studio clay and glazes are included in the price of membership and classes, while specialty porcelains, underglazes, tools, and accessories can be purchased. Shelf memberships are available for $275 per month, semi-private spaces are available for $600 per month, and classes for adults start at $650 per 12-week semester. Possibly the best asset of all is that members have access to the facility 24/7, 365 days a year!
The People
Jennifer Waverek left behind a 30 year career in brand strategy and graphic design to found BKLYN CLAY. Her design experience is obvious in almost every aspect of the business. From concept to process to execution everything seems to come together beautifully. Operations Director Laura Vogel is a retired attorney who got the clay bug and in addition to her work at BKLYN CLAY, is currently working in the field of digital strategy, marketing, and production. Artists themselves, Studio Managers Gustav and Anders Hamilton (brothers) keep the gears turning in the studio. They are responsible for keeping all the equipment in tip top shape, firing the kilns, mixing the glazes, keeping the clay and tools stocked and are also key players in the design and production of the line of dinnerware.
The Kilns
The Facility has 3 new KMT1627 kilns along with some smaller test kilns. "When opening BKLYN CLAY, we went to Skutt for the majority of our kilns because they are reliable, technologically advanced, and convenient. The KMT controller allows us to save and navigate through programs more easily than previous controllers. We also love the ability to monitor firings remotely through the Kiln Link app."
Photos by Lucy Shaeffer and Frank Oudeman