Join Us March 15 – 17, 2023 at Booths 223/227
Skutt is excited to be back at the 57th Annual NCECA Conference at the Duke Energy Convention Center in Cincinnati, Ohio.
We'll be celebrating our 70 year anniversary, so swing on by and check out all the things we have going on, including a social media giveaway contest, guest artist demonstrations, and our latest equipment. Students can learn more about the Student Throwing Contest here.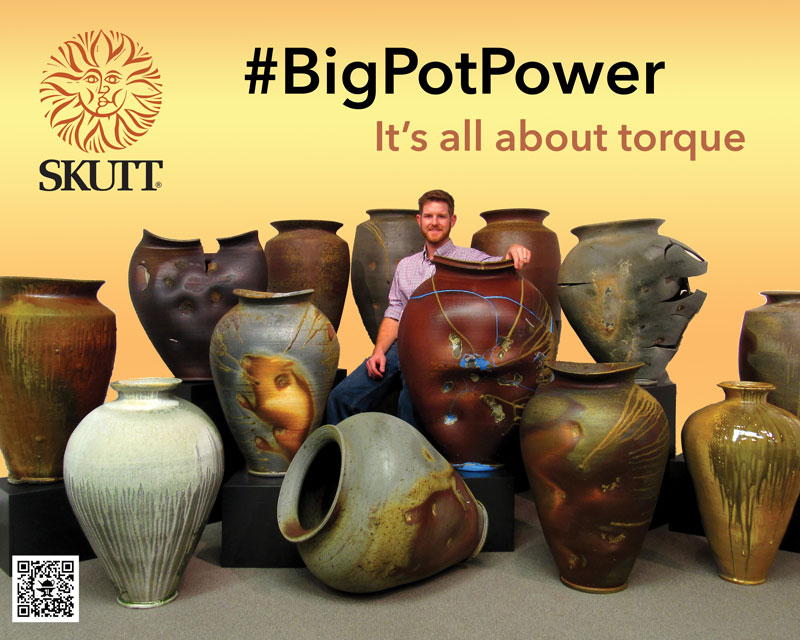 Win a Skutt KMT-822
Want a chance at winning a KMT-822 ceramic kiln while attending NCECA? Here's how:
1.) Visit us at the Skutt booth 223 / 227 and create an Instagram reel, story, and/or post of:
The Skutt booth
Herrick Smith throwing a six foot pot
Stephen Hill demo
Student throwing contest
2.) Post to your Instagram account and make sure to tag @skuttkilns and use the hashtag #SkuttNCECA23 – we won't be able to find your posts if you don't.
3.) On Friday, March 18 at 3PM, Skutt will randomly choose one submission as our grand prize winner and announce it at our booth.
The more posts you make, the greater odds you have of winning, so post as often as you like. Don't worry, if you're not around for the announcement on Friday, we will notify the winner by direct message on Instagram. Participants must be present at NCECA during March 15 – March 17 and posting content from the show to be eligible.
At the Booth
We will have free posters including Elements of Art, Principles of Design, Kiln Firing, and Wheel Throwing. And you'll have a chance to interact with Skutt staff, including Jim Skutt.
Herrick Smith – Throwing a Six Foot Pot
See how Herrick Smith constructs a six foot pot over the course of three days, made possible by the power and construction of the Skutt wheel design. It's all about torque and the engineering that can handle those forces and manage the weight.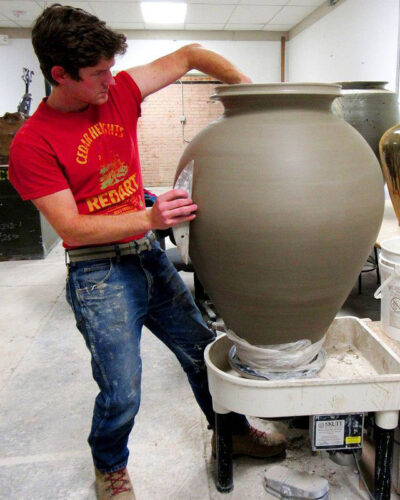 Student Throwing Contest
We will be hosting a friendly student competition at the Skutt booth. All participants will receive a Skutt beanie and three winners will be chosen daily to receive cash prizes. Each participant will be given five pounds of clay to throw on a Skutt wheel into any form they wish. Contestants have 30 minutes to work on a piece and clean their wheel.
Pieces will be judged by Steven Hill at 2:30PM on all three days of the conference. On Wednesday and Thursday, Steven will demonstrate in the booth after he judges around 3PM. Prizes will be awarded in the Skutt booth as soon as the judging is complete each day. On Friday, the winners of all three days will be judged again and the winner will take home a custom red Legend wheel with the super smooth and quiet SSX controller. As a bonus, Martha Grover will do a one hour demo in the booth at 3PM right after the final judging.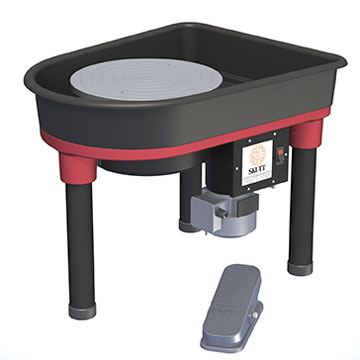 Two participants will throw every hour on the half hour throughout the entire show. Students can pre-register for a specific time slot or stop by the booth to see if there is a time slot available. The only way to guarantee a spot is to pre-register. If participants find they will be unable to make it to the booth during their time slot, please let us know so we can make that spot available for another student. A student ID is required and will be verified, so please have it available.
March 15 – 17, 2023 | 9:30AM – 2:30PM
Prizes
1st Place – $100
2nd Place – $50
3rd Place – $25
Grand prize winner is awarded a custom red Legend wheel.
Sign up Blocks – Limit Two Contestants Per Block (Click Time Slot Below)
Wednesday, March 15
Thursday, March 16
Friday, March 17
Follow Us: