The Peep Plug Show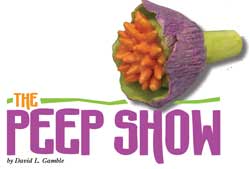 What is the Peep Plug Show?
At its heart The Peep Plug Show is a brilliant scheme set in motion by Skutt Ceramic Products Inc. to shamelessly promote their kilns while at the same time develop a private collection of the most valuable Peep Hole Plugs on earth. Besides we love having your students art work in the Skutt booth for all to admire?
Prizes
Prizes awarded to the Art Teacher!
First Place -$300 – Second Place -$200 – Third Place $100- Honorable Mention (2) $50.
Prize winners become part of the permanent collection and traveling Peep Plug Show exhibition.
How to Enter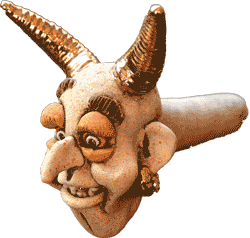 Make a Peep Hole Plug. The Plug must be made of clay, fired and functional. By "Functional" we mean: the plug fits into the peep hole's 1 1/4 inch opening tapering to ¾ of an inch. The Peep Hole Plug needs to support itself while in the peep hole. Plug part should not be glazed(Underglaze is OK). The part of your plug that sets outside of the kiln maybe glazed.
Take a digital Picture of it. ( preferably on grey paper)
Go to the web site listed below before the January 31st deadline, fill out the form and post each photo.
Check your e-mail in Mid February to see if one of your students pieces is selected as one of the 20 finalists to be displayed at the Skutt Booth at NAEA.
Bring your piece to the show ( Vendor Exhibit Hall) where it may be chosen as a prize winner
New this year! Peeps chosen can be shipped to David L. Gamble and he will coordinate shipping them to NAEA. Any pieces shipped will become part of the permanent collection and traveling Peep Plug Show exhibition that will travel to different venues around the country.
The Peeps will be judged by you the Art Teacher. All Art Teachers attending NAEA have a vote. Come to the Skutt Booth to cast your vote.
Good Luck! See you at NAEA.