Student Contest – Win A Skutt Kiln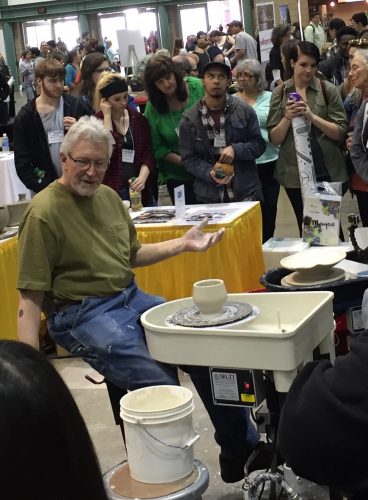 Skutt has been hosting The Student Contest for the last 6 years. The first 5 were held at the NCECA convention in the Skutt Booth. Last year unfortunately NCECA was canceled but we held it virtually.
This year NCECA is back with a Virtual Conference March 17th – 19th and the Skutt Student Contest will be one of the highlights of our booth.
Who Can Compete?
This is a contest to showcase the creative talent of Art Students. You can be of any age or year but you must be currently enrolled in an arts program.
How do I Enter?
This year the contest is all about Drinking Vessels. It can be a mug, yunomi, tea bowl…anything designed to drink liquid from. Here is how it is going to work:

Post a photo of a drinking vessel you have made on Instagram with the hashtag #winaskutt and include the hashtags #NCECA and #madeinaskutt.
Entries need to be posted by Midnight on February 19th.
All entries will be judged by Podcast Legend Paul Blais of "The Potters Cast" over the weekend and the top 21 Students will be chosen to compete. Paul will announce the finalists Sunday evening at 8:00PM (PST) on Skutt's Instagram page #skuttkilns.
All finalist will be contacted for their address so we can send them 4 lbs of clay graciously offered be Standard Clay. Due to logistic and timing issues that occurred in past contests, contestants outside the USA will need to provide their own clay.
Once you receive your clay DO NOT OPEN YOUR BOX YET. Your entire process of making your vessel must be filmed from the box opening to the final touches.

Vessels must be hand built (Not Thrown) due to the fact that many students will not have access to a wheel.

You can take as much time as you want but the video must be no longer than 5 minutes. This obviously means that you may need to speed up your video using editing tools that can be found on most smartphones. Be sure to allow enough time to film all the way around your vessel in regular motion so it can be judged fairly. Do not fire or glaze your vessel.
You must upload your video no later than Midnight March 10th.
As in the past, the videos will be edited with music by film maker Sam Giffen of Mt. Baker Productions to make sure you and your work are presented professionally at the NCECA Virtual Conference and on Instagram.
7 Contestant videos will be shown each day of the NCECA Conference in the Skutt Video Booth. Ceramic Artist Steven Hill will select a 1st, 2nd and 3rd place winner at the end of each day and offer a professional critique along with a throwing demonstration. For those of you who are not signed up for the conference, highlights of the contest will be shown on Skutt's Instagram page. Stay tuned for details on times.
On the final day of the show Steven Hill will once again judge the 3 first place winners of each day and choose the grand prize winner.
Okay What about the Prizes?
All contestants chosen to compete will receive Skutt Swag.
Daily cash prizes will be awarded to the 1st ($100), 2nd ($50) and 3rd ($25) place winners.
The Grand Prize Winner will receive a Skutt KMT822 kiln complete with Furniture Kit and EnviroVent2 valued at over $3000.

Important Dates
February 19th by Midnight (PST) -Deadline for students to post photos to #winaskutt in order to be eligible for the contest.
February 21st 8:00PM (PST) – Paul Blaise will announce the finalists chosen to compete on Skutt's Instagram.
March 10th by Midnight (PST) – All student competitors that were selected must have their video submitted.
March 17th, 18th, 19th – Videos will be shown and judged in Skutt's Virtual NCECA Booth and on Skutt's Instagram. Stay tuned to #Skuttkilns for times.
March 19th – Grand Prize Awarded. Stay tuned for times.
Good Luck Everyone!