GMT-818-3CR
Home
>
Glass Fusing Kilns
>
GMT-818-3CR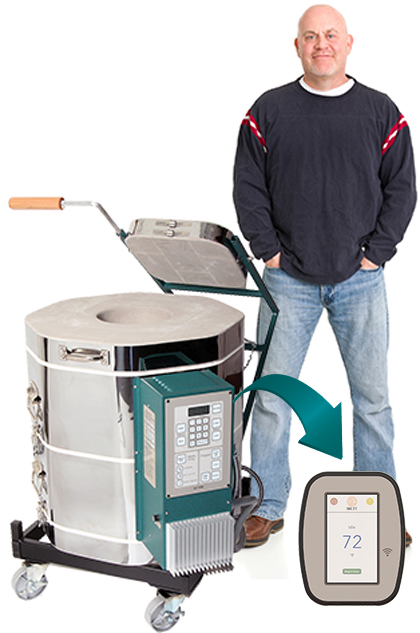 Glass Blowing Made More Affordable
Let's face it, building, running and maintaining a crucible kiln can be expensive. The GM818CR offers an affordable alternative to traditional melters.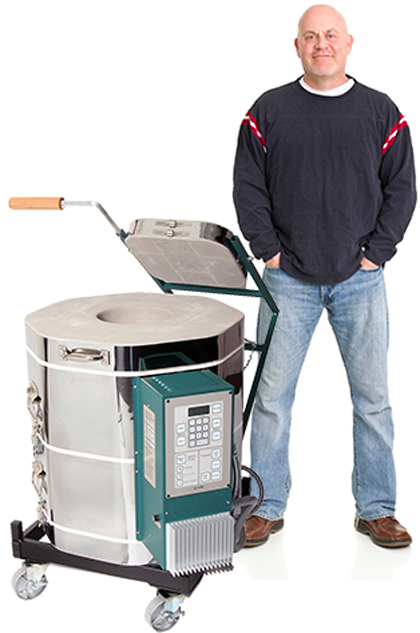 ---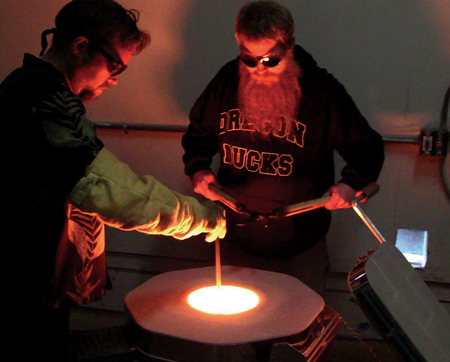 Marcel
Internationally recognized Borosilicate guru Marcel Braun has been using these kilns for quite some time now. He works mainly on the torch but often incorporates gathered glass in his larger pieces.
An electric melter allows you to easily and cost effectively heat up the glass you need for a week or even a weekend and then anneal the crucible when you are finished. Be sure to watch the video with him and legendary Artist Robert Mickelsen, collaborating on a truly masterful piece.
Watch Video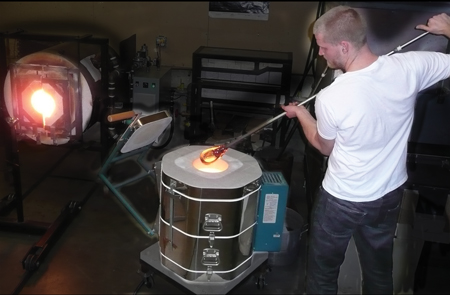 Ryan Staub
Seattle Glass Artist Ryan Staub loves his. Here are the reasons he gave us:
Best one on the market.
Gathering port is just right, not so small it's hard to gather out of, not so big it dumps all the heat when you gather.
Great for a small home or garage studio.
Good addition to a full sized glassblowing studio as an affordable color pot.
Easy to ramp down slowly, minimizing risk to your crucible.
Small and easy to store when not in use.
Easily programmable controller with indefinite hold.
Easy to install.
Low energy use, high efficiency. (Average cost is $15/day)
---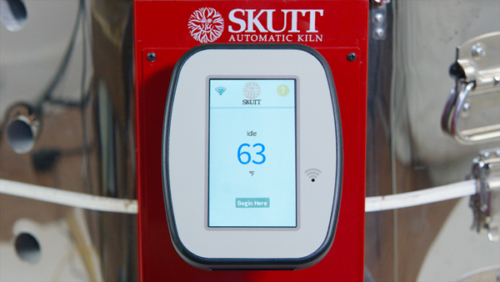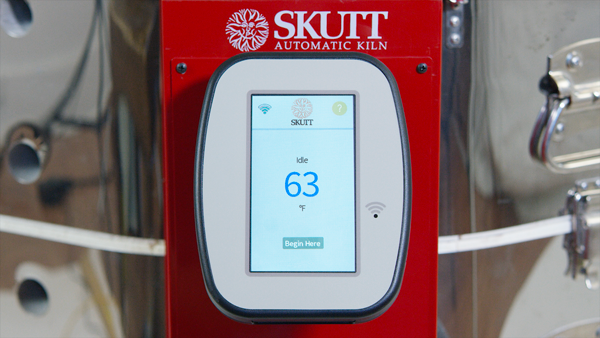 NEW

GlassMaster Touchscreen with Built-in WiFi

Like Your Smartphone the new GMT controller navigates with just a touch of a finger and allows us to guide you through programming with full sentences, helpful icons, and dynamic navigation.

Built-in WiFi makes it possible to download any software feature upgrades for free so it is like having a new Kiln Controller for the life of the kiln.

A Free App works in conjunction with the Wifi and allows you to monitor your kilns temperature and status from your smartphone.Think how comforting it will be not to get out of bed to be sure your kiln shutoff as expected.

The Hinged Controller allows you to move the controller up and down to an angle that is comfortable for you to program. No more getting on your hands and knees. After programming you can push it back down so it is out of your way and easy to view from across the room.

It has the Same Functions you have come to know and love from the standard GlassMaster Controller Plus More!
Glass Fire Mode

– Allows you to easily program the kiln based on the size of the project and what you want to do with the glass. We have added COE as one of the questions it asks you so we can write programs that are specific to

96 COE

,

90 COE

, and

Bottle Glass

. We have also added

Casting

and

Textural Fuse

to the list of project types.

Ramp/Hold Programming Mode

– Allows you to easily input your own firing programs. Now you can

Name Your Programs

and store them in

My Programs

for easy access. You can even

Copy Programs

you like, but want to change slightly to speed up the programming process.
There are exciting New Functions that are on this controller as well.
Guided Start

– This programming Mode is meant for beginners. It guides you through every step of the programming process with

Helpful Messages

to make things crystal clear and give you confidence you have done everything correctly before you press Start.

Program Library

– We have added a program library with helpful programs for unique processes like

Slumping Bottles,

Melting Glass in a Crucible Kiln

, and

Annealing Borosilicate Glass.

Help Screens

– Nearly every page has a Help Button that will give you detailed information about the screen you are currently viewing. I

t is like having the manual right on the controller!

More Detailed Diagnostics

– We put in place more detailed diagnostic tools which make it faster to figure out what may be going on with your kiln. And, because your kiln is connected to the internet our technicians can view the data right from their desk.

Graphing

– When you press Start the controller will display a Graph of the firing so you can follow it along as the kiln goes through the program.

Logging

– The controller actually stores the information from your last 10 firings which can be downloaded to an Excel Spreadsheet.
Upgrading to KilnLink

– Adding KilnLink to your kiln just got easier and more affordable. The built-in WiFi eliminates the need for expensive hardware so now all you need to do is pay a minimal monthly data storage and development fee.
So Much More – To find out more detail about more detail about the new GlassMaster Touchscreen Controller visit the Featured Product Page
---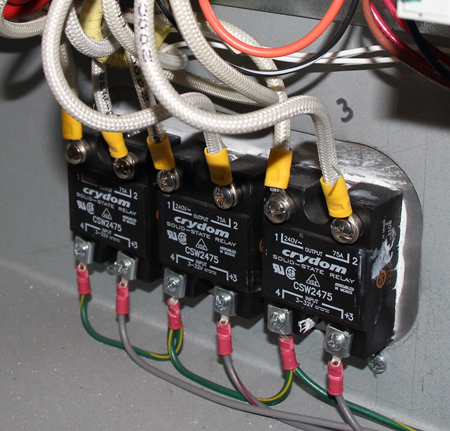 Solid State Relays
Solid State Relays are just what the name implies…they are SOLID. When you have a $200 crucible filled with $1000 worth of glass, the last thing you want in the world is to have a relay go out. Over our 50 years we have tested a lot of relays and solid state relays when engineered with a properly sized heat sink are some of the best.
---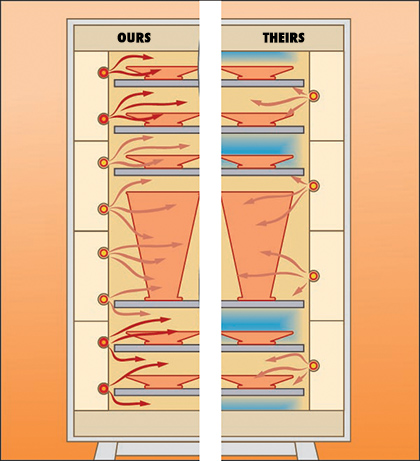 Balanced APM Elements
The GM818-3CR comes standard with APM elements. For people who are using material that does not out-gas too many caustic fumes (like batch or many colors) these elements should give you significantly longer life. They have a different cell structure from standard A-1 element wire which is more dimensionally stable at higher temperatures.
---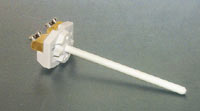 Type S Thermocouple
Most all of the kilns that leave are factory are equipped with a Type K thermocouple. Type K thermocouples are accurate and inexpensive. The downside to Type K thermocouples is that they wear out, and they wear out faster when exposed to extreme conditions. Type S thermocouples can virtually last forever. The reason for this is that they are made of platinum which does not degrade under most atmospheres and has an extremely high melting point. This leads us to one of their downsides, they are expensive…BECAUSE THEY ARE MADE OF PLATINUM!!!
They are mostly used in scientific settings where they are constantly exposed to harsh environments like that of a crucible kiln. Because it is made of very expensive Platinum, the wire used to construct the thermocouple is very, very thin. On top of this, it is housed in a fragile high alumina cover. If you hit it with a crucible, it's game over, so be careful.
---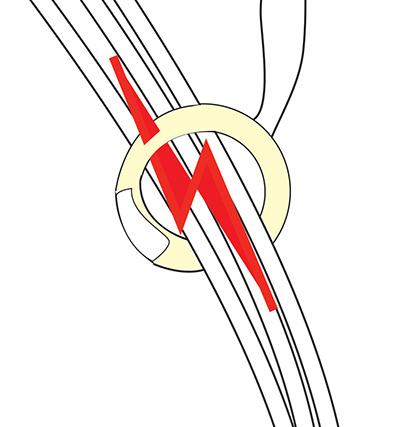 Current Sensing Technology
Skutt is one of the few brands that installs a Current Sensor in every KilnMaster Kiln. This allows you to read the Amperage of each section of the kiln as well as the Voltage and Voltage Under Load.
Now with the touch of a few buttons you can give those readings over the phone to your kiln repair technician so they can troubleshoot the problem and make sure they have the correct parts when they come out for the repair. This Saves Time and Money.
Prior to the use of these current sensors someone would have to come to your house and test the amperage and voltage inside the control box with live wires exposed. This system is Much Safer.
---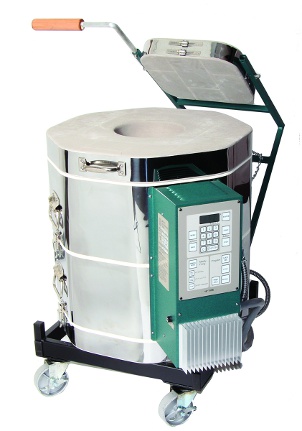 The Mantis Lid System
The Mantis Door System was designed for ease of use and ease of maintenance. The top hat door rocks back on an arc, keeping the hot face of the lid facing down so it does not radiate heat back at you while you are dipping. It has a wood handle that stays cool so you will not burn yourself. The main lid is hinged seperately and is cut with an 8″ access hole. To load or remove a crucible simply release a chain that allows the Mantis frame to move out of the way and open the lid.
When glass is molten it is conductive. When the top hat is opened, a shut-off switch is activated so you will not shock yourself while dipping.
---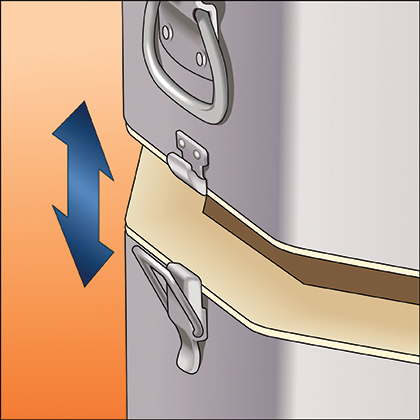 Sectional Design
Sectional Design is a good idea on so many levels.

Moving
Imagine trying to move a kiln into the basement or through a narrow door without being able to break it down into sections.
Repair
No more standing on your head in the kiln to replace those bottom elements or removing every brick in the kiln to get to the one you want to replace. Just remove the control box, unhook the buckles and place the section you want to work on on a table.
Replacement
We hope nothing really bad happens to your kiln … but … if it does, isn't nice to know you can replace one bad section instead of the whole kiln?
---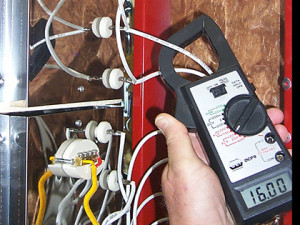 The Warranty
Unlike most warranties, ours covers Parts AND Labor.
Never Pro-Rated.
Serviced by the most extensive, knowledgeable and talented distributor network in the industry.
Backed by a company whose mission statement is "We help you make great things". When your kiln is down, you can't make great things.
---
*Weights listed are only approximations. Actual weight will vary due to humidity levels and varying brick density.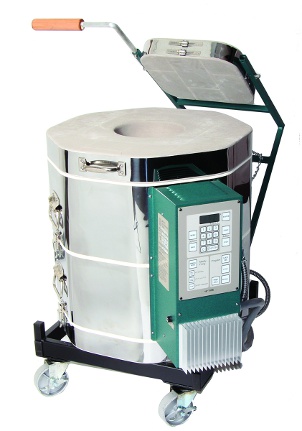 Chamber Capacity
| Depth | Opening Width | Opening Length | Cu. ft. |
| --- | --- | --- | --- |
| 18 in | 17 in | 17 in | 2.3 |
Approximately 17 in. x 17 in. opening and 18 in. high: 2.3 cubic feet.
Rolling Stand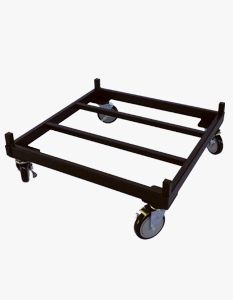 Learn More
There are no upgrades available for this kiln.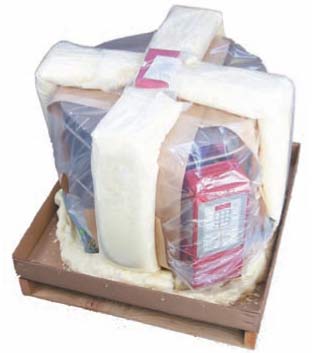 Contents List
Skutt Kilns should arrive fully assembled.
Packed with the kiln you will find the following items:
Kiln Stand
Instructional Video
Operating Manual
Stand Feet
Extra Thermocouple (unless Type S)
Warranty Card
Peep Plugs – attached to the kiln stand, enough to fill each peephole on your particular model.
Buying Skutt Products
All Skutt products, with the exception of parts, need to be purchased through an Authorized Skutt Distributor. To locate a Distributor just click on the Distributor Finder icon below.
If you are looking to purchase a kiln, you may want to use the Build A Kiln tool first so you are absolutely sure you are ordering the correct kiln with all of the accessories and upgrades you want.
If you are an Architect or contractor who is looking to Specify a particular model for future purchase, use the Build A Spec tool to generate a Specification Sheet.