Student Contest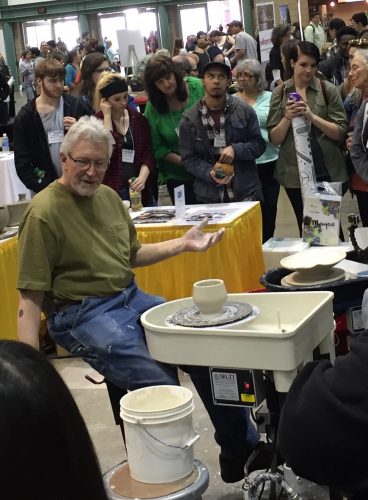 We all need a little break. Skutt has been hosting a student throwing contest at NCECA for the last 5 years. Since we can't bring you to NCECA this year, we thought we might try to bring a little NCECA to you.
Use #justususandclay to post your work, talk about what work you like, talk about your studio or the studio of your dreams…what ever you want. But lets make it all about clay and the people who love it. Please also include #madeinaskutt and #nceca to help get the word out.
If you want to compete in a cool contest judged by Steven Hill and win fabulous prizes you can do that to!
Here is how it is going to work:
Who Can Compete?
Everyone is encouraged to post their videos, photos, and comments to #justusandclay, but the main contest for the grand prize is only for Art Students with a valid Student ID, any year or grade.
This is important! If you have a valid student ID and want to compete, also include the hashtag: #justusandclayiamin
What Can I Make?
Anything you want, but here is the deal. We figured a lot of students may not have access to wheels, so this year it must be a hand built project. Also, since many students do not have access to clay, we are letting people get creative. If you don't have clay use something clay like ( mud, flour and water, wood putty, your little brothers Playdough…). an additional $100 prize will go to the most creative non-clay piece.
Do not waste food you need and absolutely do not venture out if you are under a Shelter in Place order. If you have clay you can use it, but only up to 4 lbs.
How Much Time Am I Allowed?
You can take as much time as you want, but again here is the deal, you have to speed up the video so it is a continuous cut that will load on Instagram which means under a minute. You will want at least 5 seconds of real time footage at the end so it can be judged fairly. If you do not have the technical skills or tools for this, just shoot a picture with you and your piece.
Okay What about the Prizes?
The top 30 entries will be chosen by Paul Blais of the Potters Cast Monday, April 6th. Chosen contestants will be sent 4lbs of Clay, Courtesy of Standard Clay. Along with the clay, you will be given instructions on how to submit your video final video. You will be asked to make something…what that is, you will not know until you open your clay box. Same rules above apply.
Steven Hill will choose the winner and offer a critique of the finalists. There will be a few cash prizes and Skutt Swag involved but the big prize is the Steven Hill Signature Model Skutt Wheel. Good Luck!
Important Dates
April 6th -Deadline for students to post in order to be eligible for the main contest.
April 15th – All student competitors that were selected must have their video submitted.
April 18th – Winner will be announced and videos will be posted for everyone to view.