What is a Transformer Package?
That's Crazy
The Transformer Package was developed as a response to watching Big Pot Potters stacking our KM1227 kilns, one on top of the other, press start on both controllers, and cross their fingers that the kilns would fire at the same speed. It took a lot of babysitting, and some times it worked and some times it didn't. With all that clay and time involved in making a Pot that big we thought this was CRAZY!
The Solution
Our solution was to find a way to get the controllers to talk to each other. We designed a special controller and added some communication ports to the control box that allow you to connect the controllers after you stack the kilns. Once the the controllers are connected you program 1 of the kilns to be the primary and the others to be secondary. When you press start the primary kiln will feed instructions to the other kilns which makes them fire in unison. Its like having one really tall kiln firing in Zone Control.
Fire an 81″ Chamber With 9-Zone Control
Keeping the temperature even from top to bottom is crucial when firing large pots. To fire a kiln using Zone Control it is critical that it has enough power. If it doesn't, the firing times can get extended and even worse, the kiln may not reach temperature. For this reason we only offer The Transformer Package on PK Kilns. You can purchase a 2 kiln or 3 kiln package. A 2 kiln package would control 6 zones independently and a 3 kiln package would control 9.
1 Tall Kiln or 3 Normal Size Kilns
One of the greatest things about the Transformer Package is that you can unstack the kilns and fire them independently when you don't have a giant pot to fire. This is great for University graduate programs who want the flexibility to let their students make big pots. The kilns have 15 ft power cords so you can stack them without any strain on the cords.
The Process
Here is the step by step process for stacking the kilns over your pot:
Turn off the breakers to the kilns.
Remove all of the lids.
Remove all of the control boxes.
Remove all of the sections and stack them in reverse order on the ground.
Place your pot on the slab that is supported by the heavy duty stand.
Stack the sections in correct order over the pot.
Reattach the lid.
Reattach the control boxes.
Program the center control box as the Primary and the other 2 as secondary 1 and secondary 2.
Program the Primary for the program you want to run and press start.See the whole process in fast motion as Big Pot Artist Scott Semple loads a pot he made at Chemeketa College in Oregon.


---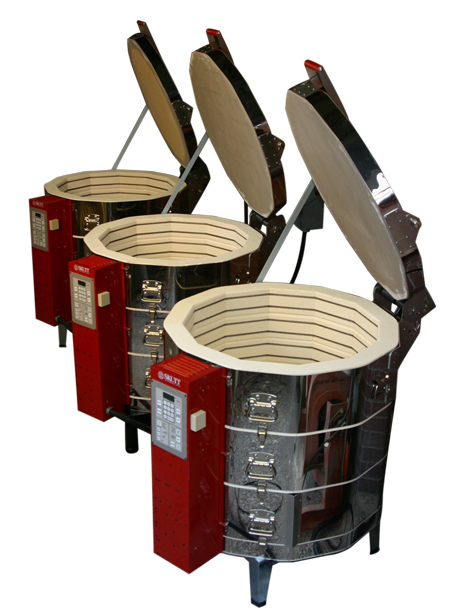 How to Upgrade
The Transformer Upgrade Package really needs to be ordered when you order your kilns. We have a two kiln package and a 3 kiln package. Both are designed to be used with KM1227-3 PK kilns. In the package you will receive the following:
17 ft power cords on each kiln.
LinkBoards on each kiln (may also be used for KilnLink).
One heavy-duty stand (in addition to the stands that come with the kilns).
All wiring necessary to connect the controllers.
Zone Control added to each kiln (3 thermocouples for each kiln.


---